How it works:
PULPS™  and PULPS PLATINUM™
are dynamic commercial loan pricing models designed to incorporate all the essential analytics required to determine if the pricing on a given commercial loan meets the profit objectives of the financial institution.  Cost of funds, risk, origination, and servicing costs are all incorporated in the model.
Just enter your loans input variables and you get the analysis.
PULPS PLATINUM™ is the  on-site in-house model and  PULPS™ is the web-based service.
Although the analytics behind the model can be quite cumbersome, this is transparent to the user through an easy-to-use internet model.  Because of the ease of use, the model becomes an invaluable tool to view the implications of seemingly minor changes in a loan pricing structure to the profitability of a loan being priced.  This can prove to be invaluable to the bottom line profitability of the institution.
Screen Shot of the results page from the web model:
Results Page from PULPS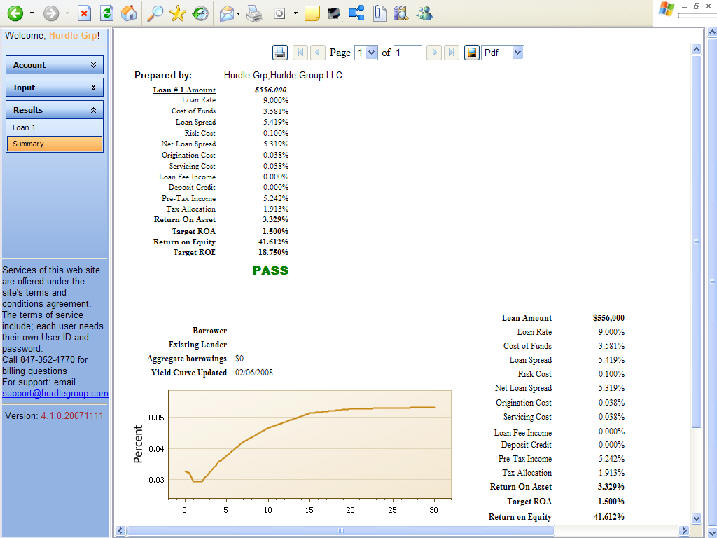 While the PULPS™ does not indicate to not make a particular loan, it does enable the institution to make a conscious decision on whether to make a loan that is priced with the institution profitability in mind, or just on what the competition deems the market to be.  After all, who is to say the competition is pricing the loan appropriately?
PULPS™ gives all lenders within the institution access to the latest in loan pricing technology at a reasonable price.  Located on the internet with a password assigned each of the loan officers, pricing can be analyzed in a way that allows the user to structure the loan in a manner that is profitable to the institution.  Less than a basis point increase in the profitability of the bank's loan portfolio more than makes up the cost of PULPS™.  This doesn't even take into account the time saved in and out of committees discussing loan pricing.
PULPS is the best selling loan pricing model available as a web based service.
Info on the onsite in-house model PULPS PLATINUM is here.